The Guinness BBQ Carnival in Penang will start at Fort Cornwallis on September 2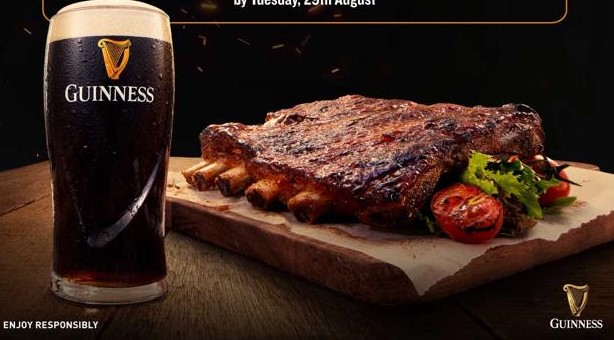 (Penang News) Remember to go to Fort Cornwallis to participate in the Guinness Flavor By Fire Carnival on September 2 and 3 this year! This is no ordinary carnival, but a barbecue extravaganza infused with the delicacy of Guinness, which will bring you an unforgettable good time and let your taste buds embark on a journey of discovery like no other.
Last month, the Guinness Flavor by Fire Carnival in Kuala Lumpur attracted close to 13,000 fans and food lovers, an event that proved to be an unforgettable and irresistible experience.
Guinness sincerely invites you and your friends to come to Penang and embark on an extraordinary journey together to discover the charm of fire roasting, and the barley of Guinness Stout is roasted at a temperature of up to 232 degrees Celsius , creating a unique and rich taste. This carnival event that truly belongs to Guinness provides you and your friends with a rare opportunity to toast and share food together.
Indulge in the smoky aromas of grilled meats and delicious spices to keep your taste buds turning. The two-day carnival will bring Penang's much-loved chefs and culinary pals, as well as outdoor barbecues and Guinness Draught draft beer machines designed for pouring smooth, full-bodied beer. In this carnival, you will have the opportunity to sample mouth-watering food while enjoying the unique taste brought by Guinness Draught.
Shaun Lim, Marketing Manager, Wheat Beer, Stout and Diageo Brands, Heineken Malaysia Berhad said: "Thousands of fans and food lovers will flock to our unique food festival. After our successful After the grand event in Kuala Lumpur, we are delighted to turn our focus to Penang to bring you an exciting carnival feast."
Guinness Stout has a unique and rich flavor that is loved by chefs and gourmets alike. When Guinness meets raging fire, it creates a truly unforgettable culinary experience. Guinness-infused delicacies will be prepared by renowned grill masters, including Smoke Papa BBQ, White Smoke, Roku the Taco Bar, DreamBurger, Three Tiers, KAO BBQ, Firewood Penang, Foxhole 24 and others from Kuala Lumpur Kitchen Mafia celebrity chefs Johnny and Sherson.
The much-anticipated lineup of local artists will present wonderful live performances on weekends, bringing infinite joy to the scene. While enjoying the food, you can also drink Guinness and enjoy DJ YNN, DJ Ramsey Westwood, Masia One, K-Town Clan ft.Nexto, KAYA, DJ Kavlclub, Somebody Who, Bunga Raya, 9 Lives Band ft .Joy Victor, Acidic Bunch and INSTYLE band performances.
To add to the fun, you can also take part in the Long Bar Challenge to win exclusive Guinness T-shirts, drink vouchers or other exclusive merchandise. Afterwards, head to the Guinness STOUTie machine and have your personal selfie printed on the stout's foam, which is also a cool way to perpetuate a happy moment.
Don't miss the Guinness Flavor by Fire Carnival, click the link to register now.
Stay tuned to Guinness Malaysia social media accounts for updates on the chef line-up and entertainment for the upcoming food festival at Fort Cornwallis, Penang on 2 and 3 September.
For more information, please visit or follow Guinness Malaysia's Facebook page www.facebook.com/guinnessmalaysia and Instagram account www.instagram.com/guinnessmy.
---
---