"Chicken Pot Home Charity Foundation" Tu Yanhao served as the president to donate to the dialysis centers and family associations in Malaysia | Business News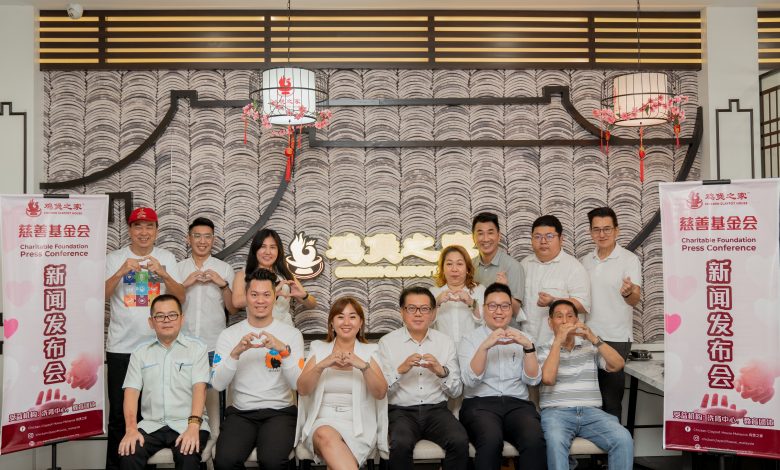 (Bukit Mertajam News) In order to fulfill corporate social responsibilities, Chicken Claypot House, a catering industry group in my country, has specially established a Chicken Claypot House Charity Fund headed by community leader Tu Yanhao Yen Toh, and will Regularly distribute charitable funds to dialysis centers, Chinese primary school tutoring associations and charitable organizations across the country.
The foundation held an inauguration ceremony yesterday (June 15th), and was attended by many leaders of the charity industry, including Dr. Dato' Chen Jiaqiang Specialist, Dato' Zhong Quanlu, Lawyer Chen Baihong, Luo Dewang, Wu Yinglun, etc.
Tu Yanhao said that charity is a virtue and an important cornerstone of social progress and common prosperity. As a well-known catering group, they know that they shoulder more responsibilities, not only satisfying people's pursuit of food , but also concerned about the development of society and the promotion of public welfare undertakings.
She said that based on this belief, we established the "Chicken Pot House Catering Group Charity Foundation", aiming to make positive contributions to society by initiating and supporting various charitable projects.
"As a catering company, we decided to donate 1 ringgit per consumption order to provide a source of funds for the foundation," Tu Yanhao disclosed.
She pointed out that this decision is not just a simple number, but also a sincere commitment and firm belief in charity.
I believe that behind every consumption list is the trust and support of our customers, as well as our commitment to social responsibility.
Dato' Dr. Chen Jiaqiang praised the two co-founders of Chicken Pot House, Dato' Wu Guofeng and Wu Guoyi, in his speech. While developing their restaurant business, they did not forget to fulfill_corporate social responsibility, which is worth learning for all business circles role model.
The operation method of the Chicken Pot House Charity Foundation is: whenever a customer consumes a chicken pot delicacy at a store under the "Chicken Pot House Restaurant Group" across the country, the store will donate 1 ringgit to the foundation (expected: one year Set at Rm100,000, distributed quarterly to five beneficiary groups, each receiving Rm5,000).
According to its purpose and goals, the foundation will regularly review individuals and groups in need in the community, and allocate funds to related projects.
The list of directors is as follows:
Conference Consultant: Dato' Dr. Tan Ka Keong
Executive Advisor: Wu Naixing
Legal Advisor: Lawyer Chen Baihong
President: Yen Toh
Vice President: Prospective Dato' Lin Ronghua
Secretary General: Captain Chen Diquan
Finance: Chen Shuilian
Deputy Finance: Hong Yuying
Inspector: Huang Yaling
Directors: Paul, Lin Xiuwei, Huang Yuliang, Zheng Yongren, Lin Jinman.