Zhou Youbin, Consul General of China in Penang at the Membership Meeting of the Association of Chinese Enterprises in North Malaysia: The four states in North Malaysia are the first choice for overseas Chinese investment.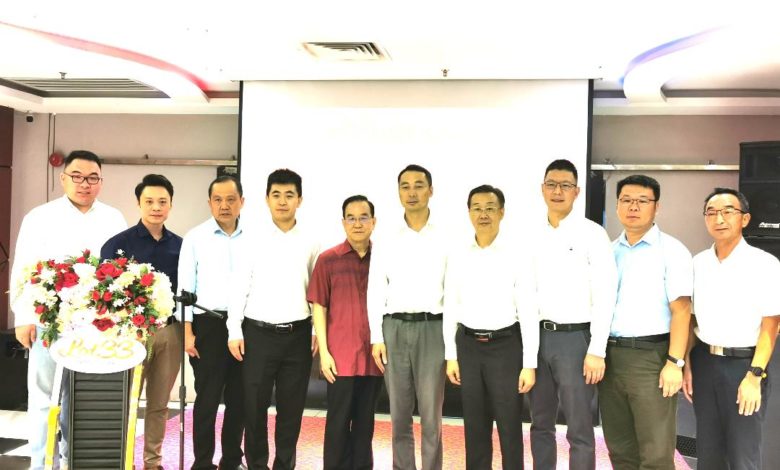 (Penang News)
The Chinese Consul General in Penang Zhou Youbin pointed out that this year, nearly ten Chinese domestic companies have come to the Consulate General in Penang to visit or consult the investment environment in the consular area, and the four northern states of Malaysia are the first choice overseas for Chinese capital to "go out". .
Consul General Zhou Youbin made the above remarks at the general meeting and re-election meeting of the Association of Chinese Enterprises in Northern Malaysia last night. He also hopes that the Association of Chinese Enterprises in Northern Malaysia will play a leading role in providing necessary assistance and more investment information for Chinese enterprises , Actively play the role of bridge between enterprises and relevant local government agencies and business associations, and better protect the rights and interests of members.
During the meeting, the 2023-2026 directors of the Association of Chinese Enterprises in Northern Malaysia were also elected. Liu Zhenhua and Wang Qianchao, as expected, were re-elected as the president and secretary-general, continuing to lead Chinese companies in Northern Malaysia to another peak.
Consul General Zhou said that since the beginning of this year, China-Malaysia investment cooperation in the consular district has continuously made new progress. The Guangzhou-Penang-Guangzhou direct flight of China Southern Airlines was revoked, the Penang branch of Dahua Malaysia opened, the STP2 project of CCCC Tianhang Penang officially started, the mineral processing plant of Jinjing Silicon Technology Co., Ltd. broke ground in Perak, and EVE Lithium Energy and PKL last week signed a memorandum of understanding for the land purchase of the Kedah factory.
In addition, Chinese local economic and trade delegations such as Jilin Province and Xuzhou City organized delegations to visit Penang to seek investment and cooperation opportunities. He hopes that all member companies will carry forward the spirit of solidarity and mutual assistance, and as pioneers and vanguards, share experience with the companies that start their businesses here with an open mind, help them avoid detours, tap more business opportunities and expand business markets through mutual assistance, To achieve win-win cooperation.
Consul General Zhou disclosed that not long ago, the leaders of China and Malaysia drew a blueprint and pointed out the direction for the further development of China-Malaysia relations. Malaysian Prime Minister Anwar Anwar visited China and reached a consensus with President Xi Jinping on jointly building a China-Malaysia community of shared future. The two sides will promote cooperation in the joint construction of the "Belt and Road", promote key projects, and cultivate growth points for cooperation in the fields of digital economy, green development, and new energy , to discuss the development of cooperation in people's livelihood so that China-Malaysia relations can benefit more people of the two countries.
In the first quarter of this year, China's import and export volume to countries along the "Belt and Road" increased by 16.8% year-on-year, of which the import and export volume to ASEAN increased by 16.1%; 9.5%, of which Malaysia is one of the main investment destinations.
President Liu Zhenhua mentioned in his speech that since its inception in 2016, under the leadership and guidance of the Consulate General of the People's Republic of China in Penang, the association has been adhering to serving Chinese-funded enterprises, building a communication platform, and acting as a communication platform for Chinese-funded enterprises. The role of adhesive, serving the country's "Belt and Road".
He said that in the past three years of the epidemic, all Chinese-funded enterprises have experienced an unforgettable past.
Liu Zhenhua said that during the epidemic, the Chinese Enterprises Association responded to the call of the Penang State Government, and all member companies worked together to donate masks, medical gloves and other medical protective equipment to major welfare organizations. Especially for nursing homes and old people's homes, the association also specially understands the demand list of welfare institutions and purchases a large amount of senior food, edible oil and medical protective equipment.
"The charitable deeds of the Association of Chinese Enterprises in Northern Malaysia fully embodies the spirit of Chinese enterprises working together and helping each other in times of trouble, and also reflects the excellent character of the Chinese nation's benevolence and charity." Liu said.
He disclosed that after the end of the epidemic, more and more Chinese companies have established factories and offices in North Malaysia, and this trend is continuing to strengthen. The association is now involved in more and more industries, including manufacturing, service industry, environmental protection, medicine, energy, transportation, construction and other related industries.
He said that the association will do its best to provide more communication opportunities and a better platform for all Chinese-funded enterprises, so that everyone can share resources, share information, and seek common development. It is believed that with the leadership and help of the Consulate General and the strong support of Malaysian Chinese businessmen and entrepreneurs, the association will better function as a platform and communication.
Penang Huatang Chairman Tan Sri Dr. Chen Kunhai was also invited to give a speech. He said that since the establishment of the North Malaysia Chinese Enterprises Association, it has always played an important role and played a pivotal role in promoting the economy of Malaysia and China. For the economic relations and cooperation between Malaysia and China, especially The business development of Malaysian enterprises has made great contributions.
North Malaysia Chinese Enterprises Association 2023-2026 list of directors:
President Unit: China Southern Airlines Penang Sales Department
President: Liu Zhenhua
Acting President Unit: Zhonghua South Pharmaceutical Co., Ltd.
Acting President: Sang Heung Park
Secretary General: Wang Qianchao
General financial unit: China Communications Construction (Malaysia) Co., Ltd.
Chief Financial Officer: Liu Tao
Vice President Unit: Bank of China Penang Sub-branch
Vice President: Jin Ting
Vice President Unit: CRRC Malaysia Sdn Bhd
Vice President: Gao Jie
Vice President Unit: China Civil Engineering Malaysia Co., Ltd.
Vice President: Ge Meng
Vice President Unit: COSCO SHIPPING Malaysia Berhad
Vice President: Liang Zibin
Vice President Unit: JinkoSolar Malaysia Sdn Bhd
Vice President: Li Ruilin
Vice President Unit: China Harbor Engineering Malaysia Berhad
Vice President: Yan Junming
Director unit: Jinjing Technology Malaysia Co., Ltd.
Director unit: Bihai Yongle Malaysia Co., Ltd.
Director unit: Xinshengda International Paper Malaysia Co., Ltd.
Director Unit: Hikvision Malaysia Sdn Bhd
Director unit: Malaysia Luhaifeng Development Co., Ltd.