"Your vote matters!" Pinlanyan urged voters to vote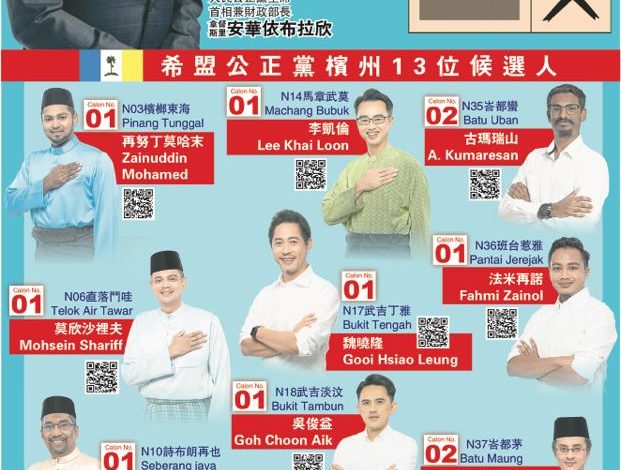 (Penang, 8th) Datuk Badia, acting chairman of the People's Justice Party in Penang, described that the state election polling day on August 12 will determine the future of the country that the people love.
On behalf of the PKR party, he made a plea to Penang voters that is extremely important to the future of Penang and emphasized the importance of voter participation in this critical decision-making process.
"Looking back at past state elections in Johor and Malacca, it is frustrating that non-Malay voter turnout was below 70 per cent."
He said the party urges voters to fulfill their basic rights and responsibilities as Malaysian citizens and come out and vote.
"The vote of the people will have the power to shape the destiny of Penang and affect the lives of the people of Penang."
Now more than ever, he said, there is a need to support those individuals who truly work tirelessly to improve our communities.
"We must choose to prioritize the well-being of our people and aspire to build a united and harmonious society."
He urged the people not to be swayed by those who preach divisive racial rhetoric, because the strength of the people lies in the unity of Malaysians.
He pointed out that by voting on August 12, the people will contribute to the democratic process and ensure that their voices are heard.
"In this state election, every vote counts and every voter has the ability to make a difference. Together we can shape the future of Penang and foster a society that thrives on inclusivity and progress."
He said the party urged voters to recognize the importance of this moment and act with reason. Friends, family and fellow citizens are also encouraged to exercise their right to vote.
He said the party called for Malaysians to "unite for stability and prosperity".
"Let us unite in our commitment to building a brighter future for Penang where everyone's aspirations and wellbeing are valued and upheld. Remember, your vote really counts."
He hopes that voters will continue to support the unity government led by the PKR Chairman, Pakatan Harapan Chairman and Prime Minister Dato' Seri Anwar, and fully support the 13 state seat candidates of the PKR Party in Penang to win in an all-round way, so as to bring the voice of the people into the state parliament.
The party's 13 Penang candidates are Zainuddin Mohd, No. 1 candidate for N03 Pinang East Sea District, Mohin Sharif, No. 1 candidate for N06 Telok Tawah District, and No. 1 candidate for N10 Seberang Jaya District. Hari Kassim, No. 1 candidate for N12 Benan District, Roshidi, No. 1 candidate for N14 Machang Wumo District, Li Kailun, No. 1 candidate for N17 Bukit Dingya District, Wei Xiaolong, No. 1 candidate for N18 Bukit Tambun District, N20 Sungai Baja District No. 2 Candidate Nohi Dayah, N24 Botanical Garden No. 3 Candidate Li Wenxing, N35 Batuman District No. 2 Candidate Gumari Shan, N36 Pantai Jaya District No. 1 Candidate Fami Zai Nuo, No. 2 candidate Mohd Abdul Hamid of N37 Batu Mao District, and Mohd Abdul Hamid No. 1 candidate of N39 Pulau Betong District.
(information sharing)