[Wan Qingyi Care]A 60-year-old son cares about his 90-year-old mother, who is suffering from illness and is under great pressure.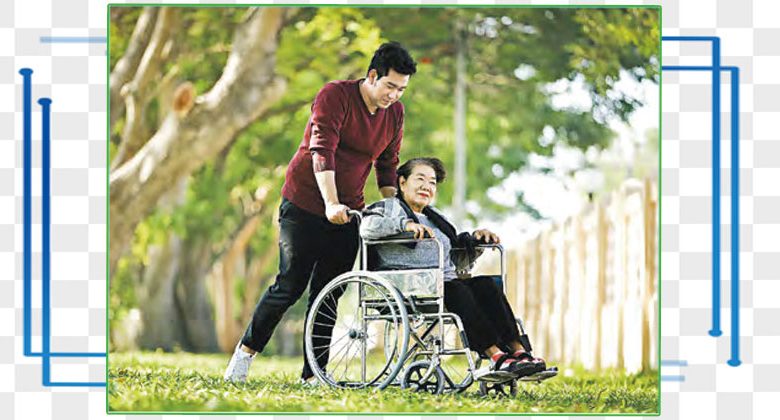 Caregivers take on the responsibility of taking care of family members around them who are disabled, chronically ill, and elderly; they do so 365 days a year, and many of them even care for the elderly and the disabled. Statistics indicate that more than half of caregivers have experienced mental stress due to caregiving.
Ethical tragedies involving caregivers appear in the news from time to time, reflecting that they are under great pressure and in urgent need of help. "Care for Caregivers" attempts to understand the needs of different caregivers through their stories.
(Hong Kong News) Children take care of their elderly parents, which is considered an unshirkable responsibility. Faced with various difficulties in taking care of them, many people silently shoulder the burden and take it step by step. Until their parents are dying and their children are getting older, care becomes more and more important. It became increasingly difficult, and daily life seemed to be at a dead end.
Experts remind that you cannot wait until the problem worsens before resorting to measures. You must have a long-term plan from the beginning, discuss it with your family, and make good use of various supports in the community, so that you can be smooth on the road to care.
Case:
The old mother is sick, withdrawn, strong-willed and loves to complain.
Brother Qin, 61, has been a family caregiver since he was a child. He has been responsible for the meals for the family since he was 8 years old, and regards taking care of his family as his job. Brother Qin has a sister who is 2 years older and a brother who is 4 years younger. When he was young, his parents worked as mobile vendors selling fish and vegetables in Mong Kok Market. Brother Qin took care of the household chores such as washing and cooking. "There always has to be someone to do the cooking. The most important thing about buying food is that it's cheap, as long as it's cooked."
I have considered asking a maid to help take care of me
His father died young and the family was financially strapped. The eldest sister had already devoted herself to social work. Qin Ge, who was 17 years old at the time, studied part-time at night school until Form 6. He worked as a mechanical apprentice, delivered gas on a bicycle, delivered goods, and was a delivery driver. Long-term transportation caused bone deformation and he suffered from frozen shoulder; he also suffered from frozen shoulder. Diabetes has worsened in the past 10 years, coupled with high blood pressure and high cholesterol. He takes more than 10 pills a day and has been off work for many years and lives on meager savings.
Brother Qin has lived with his mother since 2000. In recent years, he has been taking care of his mother, who is over 90 years old. Although the mother suffers from high blood pressure and high cholesterol and needs regular follow-up visits, she can move freely. Brother Qin drinks tea and goes to the park with his mother every day; his younger brother Ah Shou occasionally drives his mother to a temple to eat vegetarian food. However, my sister, who works as a security guard, has fewer visits due to her long working hours.
However, in the past three years, my mother has become increasingly frail, suffering from back pain and weakness in her legs. Brother Qin takes his mother to restaurants and parks in a wheelchair every day. He first takes the elevator down to the first floor of the building, helps her walk the 10 steps to the street, and then picks her up in a wheelchair.
Although he thought his mother was picky, he still tried his best to accommodate her. For example, she did not like to use a wheelchair to get on and off the bus, so he pushed the wheelchair and walked from his apartment in Mong Kok to the Yau Ma Tei Jockey Club Clinic, where he accompanied his mother to complete more than 10 skin treatments.
Never thought of seeking care support
His younger brother Ah Shou said that his mother had many friends when she was young, and after she retired she often played mahjong with the neighbors at home. However, as she entered old age, she suffered from many illnesses, and her friends died one by one, her personality became more and more withdrawn and strong-willed. Getting along with her brother was like " "Mars collides with the earth", and often complains: "Can't go anywhere, leaving behind 'sacrifice (referring to shame)'."
Brother Qin admitted that taking care of him was stressful, and he had considered hiring a maid to help take care of him. He said: "My mother thought that I didn't take good care of myself, so she once mentioned hiring a foreign helper, but good workers were hard to find, so she didn't hire one in the end. Now she can still take a shower by herself." ."
When asked about the future when her mother's ability to take care of herself diminishes, what are her plans? Brother Qin admitted that he had never thought about it.
"My brother takes care of my grandma for two nights a month. I feel more relaxed." Brother Qin rarely takes a "vacation", so he will take the opportunity to go to Shenzhen to find a blind massage to relieve shoulder discomfort.
Since Ah Shou was not good at cooking, he took care of his mother, so he mainly had takeout for three meals. He tried buying steamed meat cakes with rice, but his mother found the rice too hard to swallow. He felt that his caring skills were not as good as his brother's, so he bought different foods for her to try, but they were never to her liking, and sometimes she would vomit after eating them. When the two brothers saw their mother losing weight day by day, they thought it was a common difficulty in swallowing among the elderly, but they never thought of seeking care skills or professional support.
Difficulty swallowing, weight loss, diagnosed with gastric cancer
Brother Qin said that because his mother had no teeth, he usually cooked tofu, fish, and delicious rice noodles for her. However, in recent months, the two brothers noticed that she was eating abnormally and vomiting frequently. (Social welfare agencies) don't necessarily eat when they have food, which is a bit stubborn."
In August this year, my mother took the initiative to see a private doctor, who diagnosed her with gastric cancer and referred her to the hospital. She was bedridden, fasting, and relied on intravenous injections of glucose water to supplement her nutrition. She only tried to eat a few spoonfuls of porridge at a time.
Regarding the future care of his mother, the brothers were at a loss and had no plans, saying they could only take care of themselves.
On the day of the visit, the doctor will make an appointment with them to explain their condition, and they are very worried. Brother Qin learned that his mother was worried and agitated after she became ill and had difficulty sleeping. He said that he would first listen to the doctor's treatment arrangements before considering it, or that he might need to arrange for his mother to stay in a nursing home, but his mother was probably unwilling to do so. The reporter sent the "Care Tips" produced by the Hong Kong Women's Center Association and suggested that they contact the hospital's medical social worker for help.
Understand the long-term community support plan early
Just like the two brothers Qin Ge and Ah Shou, many children do their best to take care of their elderly parents within their capabilities.
But as the elderly's health deteriorates, they initially move freely and can take care of themselves in daily life, but gradually need crutches to help them walk and wheelchairs to get in and out. At the same time, they may have difficulty swallowing, incontinence, and even cognitive impairment.
When the demand for care becomes higher and higher, many family members will only think of residential care homes for the elderly. However, in addition to residential care homes, there are also many day centers and door-to-door services that can reduce the pressure on caregivers.
The waiting list for residential care often takes three or four years.
Ma Kai-in, program manager of the Hong Kong Jockey Club Care Center of the Lutheran Church of Hong Kong Ma On Shan Elderly District Center, pointed out that when parents get older and their physical and mental health begins to decline, or even develop long-term illnesses, caregivers should learn about various elderly services in advance. Make long-term plans, otherwise you may not be able to keep up with changes.
Take Qin Ge's family as an example. When the elder's health declines, he suffers from pain, and even begins to rely on assistive devices, Ma Kaiyin suggests that he can go to the neighborhood elderly center or district elderly center in the district to receive an assessment to understand the care services he needs. , including home services such as meal delivery, medical companionship or rehabilitation services. You can also apply for and wait for day care centers and residential homes as needed. The center will follow up on the elderly's situation on a case-by-case basis.
In addition, if the patient has a long-term illness, as soon as the doctor makes the diagnosis, he or she can contact the medical social worker to find community resources and waitlists for long-term care services. Taking Brother Qin's mother suffering from cancer as an example, many organizations provide support to cancer patients and caregivers, such as the Hong Kong Cancer Foundation, the Hong Kong Anti-Cancer Society, the Jockey Club Cancer Patient Support Program, Mengqi Cancer Care Center, etc. . These include emotional counseling, sharing with fellow travelers, Chinese medicine services, and even aid and taxi money subsidies.
Launch of male carer group service
Many caregivers are very resistant to sending their parents to institutions, but Ma Kaiyin believes that when necessary, they should let professionals take care of them, so that their children can continue to provide psychological care and reduce the pressure of care.
Most government-subsidized residential care homes have a waiting list of 3 to 4 years. Family members can apply first. If the elderly do not want to move into a nursing home too early, there is a freezing mechanism. For details, please consult social workers.
Ma Kaiyin also mentioned that more and more men are taking on the role of caregivers. The center launched a male caregiver group service two years ago. There are men over 50 who retire early to take care of their sick wives or mothers. There are also reasons Take care of your brothers and put down your work.
Although many men are caring, they are irritable because they don't know how to do housework. "I really want to help, but I don't know how to help. I didn't have to cook before, but now I don't even know how to cook. I don't know how to do it. I feel like I'm Useless'".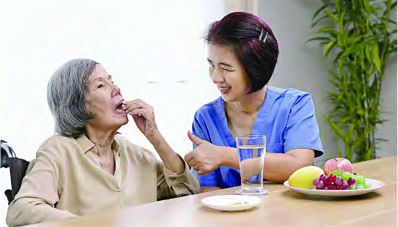 Only by expressing your emotions can you deal with things rationally
As of the end of August this year, there were 1,097 caregiver members in the center, about 25% of whom were men, with more than half being children, followed by spouses. Ma Kaiyin pointed out that men consider it their responsibility to take care of their families and do not trust others or nursing homes to take care of them. They do not seek help urgently until their family members are unable to take care of themselves, such as being weak, unable to take a shower, or incontinent. They want to arrange to stay in a high-quality home. I wanted to give it up, but I couldn't do it because it took a long time to wait.
In addition, it is not easy for men to share their feelings, hide their low emotions, and cannot vent their stress. "A son was shocked when he found out that his mother had oral cancer. He did not dare to express his emotions in front of his mother and sisters to prevent them from worrying. However, he burst into tears when he entered the professional counseling room. ."
Ma Kaiyin said that only by finding the right person to talk to and letting your emotions flow can you deal with things rationally.