Samsung Galaxy Z Flip5 and Galaxy Z Fold5: Offer uncompromising flexibility and versatility. | business news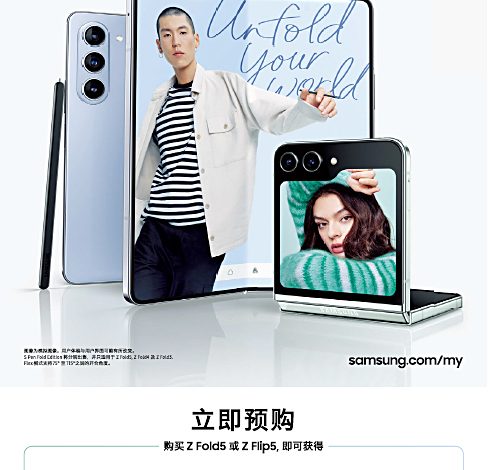 Samsung Galaxy Z Flip5andGalaxy Z Fold5: Offers uncompromised flexibility and versatility.
Galaxy Z series with new flex The innovative shape of the hinge enhancements results in a balanced design and unique FlexCam Professional-grade camera features for an unrivaled foldable experience.
Samsung Electronics Co., Ltd. recently released the fifth generation Galaxy foldable mobile phoneGalaxy Z Flip5 and Galaxy Z Fold5.
Their industry-leading form factors, combined with sleek and compact designs, countless customization options, and powerful performance, create a unique experience for each user. brand new Flex Hinge Making the foldable experience a reality while delivering an aesthetically balanced and robust design.
These unrivaled foldable devices unlock extraordinary camera features such as FlexCamPhotos can be taken from creative angles. With powerful performance and an optimized battery powered by the latest processors, Samsung Galaxy Z series revolutionized the viability of a smartphone, both in its open and closed form.
President and Head of Mobile Experience Business, Samsung Electronics TM Roh explain:"Samsung is revolutionizing the phone industry with foldable devices by setting the standard and continually refining the experience."
"Every day, more and more people choose our foldable phones because they deliver the experiences people want and can't get on any other device. Galaxy Z Flip5 and Galaxy Z Fold5 It is the newest model and embodies our commitment to meet the needs of our customers through innovative technology."
Samsung's legacy of innovation combined with its commitment to foldable phones has resulted in an incredibly versatile device. With a firm belief in the potential of the foldable format, coupled with world-class R&D and manufacturing capabilities, Samsung continues to refine and optimize Galaxy Z Series production series.
from Galaxy Z Flip5 brand new Flex Window Content created on Galaxy Z Fold5 seamless multitasking on the Galaxy Foldable phones meet and exceed the unique needs of today's users.
also,Galaxy Z Flip5andGalaxy Z Fold5 All have been carefully designed to meet expectations for long-lasting durability. The main screen is equipped with a shock-absorbing dispersion layer and a redesigned back for a more solid display. In addition to getting IPX8 support,Armor AluminumAframework and the Flex Windowwith the back coverCorning® Gorilla® Glass Victus® 2Besides,Galaxy Z Flip5andGalaxy Z Fold5 also provides the protection consumers have come to expect, and through flex The hinges are further enhanced. This new integrated hinge assembly uses a dual rail structure to disperse external shocks.
Galaxy Z Flip5: No compromise, the ultimate portable self-expression tool.
Galaxy Z Flip5 is a pocket-sized device built to stand out, offering a stylish and unique foldable experience.
new type Flex Window Bigger now than last generation 3.78 doubles, provides extensive pages for existing and new features, offers more customization options, including an informative graphical clock that Galaxy Watch6 The dial design of the series matches, as well as the stylish frame.
in addition,Galaxy Z Flip5brand newFlipsuitprotective case, through the replaceableNFCCards provide device protection so users can match theirFlex WindowDesign and case design for more personalization options.
ClosedGalaxy Z Flip5 offers more uses than ever before, through Flex WindowUseful information is available quickly and easily. With widgets, users can check the weather, control music playback and listen to their favorite music using the media controller, or use Google Financial widgets to learn about the latest global stock market dynamics.
See all widgets at a glance and instantly switch between them with a single tap of the screen to activate the multi-widget view. Plus, it's easy to view messages and access Wi-Fi or Bluetooth's quick settings. Browse the call history to return missed calls without opening the device, and QWERTY Visibility into your keyboard and chat history, and use the quick reply feature to reply to text messages anytime, anywhere. Just a quick swipe up on the screen to access Samsung Wallet for mobile payments, access to QR codes and coupons, as well as boarding passes, loyalty cards, digital keys and health passes.
With its unparalleled design and shape,Galaxy Z Flip5 also offers Samsung Galaxy The most versatile camera experience on a smartphone.
with the help of a larger Flex Windowtake high-quality selfies with the rear camera. Users can use FlexCam Take amazing hands-free photos from a creative perspective. exist flex Viewing and editing shots in mode is also very fast and easy. Users can use Flex WindowQuick View in , easily view, adjust tones, or delete images. When taking photos of friends, the dual preview lets them Flex Windowso they can adjust in real time for the perfect photo. Users can take advantage of camera stabilized Super Steady Features Get smooth shots on the go, while auto-framing ensures no one is missed.
Galaxy Z Flip5 Will AI Resolution improvements add to a powerful camera experience that brings every photo to life. Get creative even in low light with improved night photography, optimizing photos and videos for any ambient lighting condition. AI Driven image signal processing (ISP) algorithm corrects any visual noise that would normally spoil a low-light image while enhancing detail and tone. even from a distance,10 Photos with a 10x digital zoom also appear clearer.
Galaxy Z Fold5: The ultimate powerful productivity on the big screen.
so far,Galaxy Z Fold5The thinnest and lightest foldable, it offers an immersive large screen and long-lasting battery for easy portability anywhere, while providing Galaxy Z The most powerful expressive performance in the series.
Galaxy Z FoldAlways a pioneer in changing everyday productivity through a powerful large-screen experience, it has evolved from multiple windows and applications to a variety of features including taskbars, drag and drop, and optimization of third-party applications.2021 launched inS Pen FoldThird Generation FoldAlso fine-tuned and available at Galaxy Z Fold5 Provide an excellent writing experience on. Together, these features and tools deliver powerful productivity on the big screen and empower users to complete important tasks anywhere.
An elevated taskbar allows users to quickly switch between frequently used applications for active productivity, now ready for up to4up-to-date applications to increase productivity. New enhanced two-hand drag and drop also improves productivity when moving content between apps and screens. Simply touch and hold an image in Samsung Gallery with one finger, then open the Samsung Notes app with another finger to drag and drop the image. By hiding the popup, the app can continue running in the background, allowing users to watch video content in full screen and chat with friends in a floating popup on the side of the screen.
New slimmer and more compact S Pen Fold Versions make it easy to annotate and ideate in real time while fitting more comfortably in your pocket. ultra thin S Pen The thickness of the protective case is almost the same as that of ordinary Fold The cases are the same and are available in a variety of styles and colors so users can carry them in style S Pen.
7.6 The 2.5-inch home screen helps users get more done on the go, providing an expansive and uninterrupted viewing experience, allowing users to enjoy their favorite movies in portrait or landscape orientation. In addition, the peak brightness improves the 30% above, up to 1750 nits for the best outdoor viewing experience even in bright sunlight.
apply to Galaxy ofSnapdragon 8 Gen 2 for Galaxy (4nm) The second-generation mobile platform has enhanced graphics functions, and can use artificial intelligence to realize dynamic games and multi-game functions. Galaxy On the big screen of the smartphone, it provides users with an immersive gaming experience. Galaxy Z Fold5 Tackle marathon gaming with ease thanks to its advanced cooling system, which dissipates heat more intelligently, resulting in less slowdown and no performance degradation.
Make a positive impact on the planet.
Samsung continues to demonstrate the progress the company is making towards its environmental vision and is accelerating its efforts to achieve its goals, including in2030 Achieve net-zero carbon emissions in the device experience department by the end of the year.
Galaxy Z Flip5andFold5Adoption than previous generationsProducemore recycled materials in our products, including pre-consumer recycled glass and aluminum and post-consumer recycled plastic from discarded fishing nets, buckets andPETbottle, Even the paper used for the box is 100%by Made from recycled materials.
These innovations are also specifically designed to optimize service life, Each device comes with five years of security updates and four generations of operating system upgrades to help extend product lifecycles.
Galaxy Z Flip5andGalaxy Z Fold5from2023Year8moon19Starting today, it is sold all over Malaysia.
shape color
Galaxy Z Fold5
256GB 6799ringgit Ice Blue, Phantom Black, Cream
ONLINE COLORS: GRAY, BLUE
Galaxy Z Fold5
512GB 7299ringgit
Galaxy Z Fold5
1TB 8299ringgit
Galaxy Z Flip5
256GB 4499ringgit Peppermint, Lavender, Cream, Graphite
Online colors only: grey, blue, green, yellow
Galaxy Z Flip5
512GB 4999ringgit
For pre-order details, please go onlinewww.samsung.com/my/offer/flip5-fold5.