"Pearl Women in Entrepreneurs" Returns with Over 60 Awards to Honor Female Entrepreneurs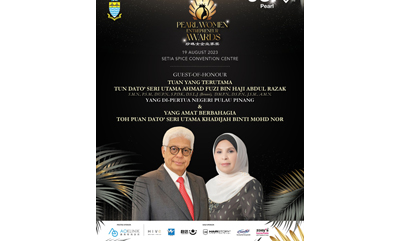 (Penang, 16th) Organized by the Malaysian Pearl International Young Women Chamber of Commerce, the 2023 Malaysian "Pearl Women Entrepreneur Award" list has been released!
The shortlist includes supreme awards: Female Empowerment Ambassador (1 person), Couple Model Entrepreneur Award (5 groups), Female Empowerment Award (5 persons), Supreme Female Entrepreneur Award (5 persons), Supreme Team Award (1 group ), Supreme Innovation Award (1 group), Top Ten Female Entrepreneurs Award and Pearl Model Award (10 persons).
Chen Qiulin, chairman of the organizing committee, said that the "Pearl Female Entrepreneur Award" aims to recognize female entrepreneurs who have made outstanding career achievements and contributed to the development of society, and honor the corporate legends they have created.
At the same time, we encourage more women to develop their entrepreneurial spirit, develop and carry forward their own career talents, and strive to promote the growth of Malaysia's economy and communities. It is believed that women entrepreneurs will play a more important role in the country's economic development in the future.
The relevant awards ceremony will be held at the Setia Spice Convention Center on August 19 (Saturday) at 7:00 pm. At that time, the Penang State Head of State Tun Ahmad Fuzi and his wife, the Sungai Pinang District will be honored State Councilor Lin Xiuqin and Shuangxi Oil Slick Area Councilor-designate Peng Xinci were the guests of honor presenting the awards.
Supreme Award
WOMEN EMPOWERMENT AMBASSADOR Women Empowerment Ambassador
● PUAN CHONG ENG
COUPLE ENTREPRENEURS INSPIRATION AWARD Couple Model Entrepreneur Award
● DR. P'NG HANN CHEAT & THOE TZE YEING (JESLYN)
– JP ASIA CAPITAL SDN BHD
● DANIEL CHONG & JAYNISS TEO
– SOLASTA PROFESSIONAL SALON (M) SDN. BHD.
● NG BOON CHONG & TAN CHONG YENG
– SRJ EDUCATION GROUP SDN BHD
● JAMES TEO & KYLIE LEONG
– BIG ASIA WORLD TRAVEL & TOUR SDN BHD
● AGOH GOH & YUNNIE HOW
– AGOH M & M ENTERTAINMENT
WOMEN EMPOWERMENT AWARD Women's Empowerment Award
● TS. CHARLENNE ONG SAN SAN – MTTC COLLEGE
● REHNEEL LEOW – SPIC INTERNATIONAL COLLEGE
● DENNYCIA KOAY ZEE WEI – UA MATERIALS SDN. BHD.
● KELLY OOI MEI HOONG – MXKLYTEAM – RX UNITED SDN BHD
● KAREN TOH – KANGYEN ASIA TRADING
WOMEN ENTREPRENEUR INSPIRATION AWARD Supreme Female Entrepreneur Award
● MAY LEONG – PMEX REALTY SDN BHD
● CARYNNE FOO MUN YEE – TBH WELLNESS
● CANDY LOCK – THE CRAV SDN BHD
● YEN TOH – HENG MENG AC GROUP
● YC LIANG – GM COMMUNICATION SDN. BHD.
ULTIMATE TEAM AWARD Supreme Team Award
● RX UNITED SDN BHD
ULTIMATE CREATIVE AWARD Supreme Innovation Award
● GLOWIN21