N09 Bagan Tanam state seat, please vote for the candidate who serves you – No. 2 Shadis (tree)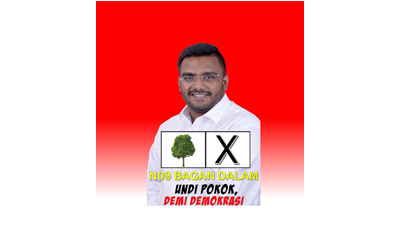 N09 Bagan Tanam state seat, please vote for the candidate who serves you – No. 2 Shadis (tree).
There are 9 items in the election manifesto for the N09 state constituency. Candidate Shadis urges everyone to vote for him, hoping to successfully defend the land and continue his manifesto for Bagan Tanam.
1. Further education
– Another Unity Kindergarten will be opened in Bagan Tanam.
-SPM history department will be expanded to include Mandarin subjects.
– The quality of free computer classes will continue to improve.
-Free digital/graphic design course for B40 students.
-Explore English/Chinese courses for interested students to learn.
– Scholarships for SPM graduates to continue their studies.
– Special remedial classes for elementary school students.
-Special cram school for B40 family middle school students.
2. Our Women
– Free mammograms.
– Free pap smear.
– Entrepreneurship Program for Women in Low-Income Communities.
– Providing free tampons to women in low-income communities.
3. Improve skills training
-Introduction of a private vocational technical education and training college in Beihai, offering skills certificate/diploma courses.
-Skills courses for SPM graduates to prepare them for the workplace.
– Small economic skills class for housewives/single/full-time moms.
4. Improve sanitation
– The project to establish a dialysis center (subsidy) has started and will continue to be established in this session.
– A Diabetic Wound Treatment Center (funded) will be established to treat diabetic patients at risk of amputation.
5. National Movement
– New sports facilities will be constructed in the Bagan Tanam area.
– Tennis and squash courts are planned and will be completed in this session.
6. Small data economy
– Small operators will be trained in data economy skills.
– A data economy center where learners have internet facilities, sell related workshops.
7. National art and culture
– Free music lessons will be held (currently at Zhonghua No. 2 School).
-Cartoon drawing class will restart.
-Promote Butterworth as a northern Malaysian art and cultural attraction.
8. Basis for sustainable environmental development
-Taman Pantai will plant all kinds of trees to create a "small forest" and become the "green lung" of the North Sea.
– Recycling program with bonus points to encourage people to recycle.
-Promote the beautiful house garden activities and distribute saplings for free.
9. Urban Agriculture, Food Security
-Urban farming programs will be launched in each community, calling for local participation.
– Mushroom cultivation scheme to be launched on abandoned government-owned land; priority given to voters in the district.
– Initiate small-scale farming programs on undeveloped government land.