Kedah main store Guar Chempedak @Guar Chempedak reopens with new decoration and crazy big sale for 22 days | Business News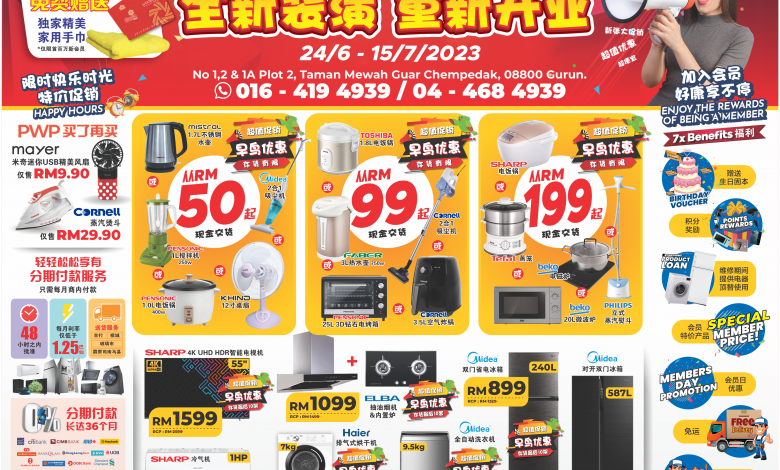 (Gurun 24th) Suria Jerai Electrical Sdn Bhd was founded in 1989. The first electrical store was located in Ozhanpilak, Kyrgyzstan. It has entered the 34th year and has an excellent reputation. Under the hard work of the founder Huang Qingshui and his elite team, it has developed from a small electrical appliance store to now with 25 branches. At present, the major branches are located in Penang, Kedah, Perlis and Perak, covering northern Malaysia. The largest electrical appliance chain store, which means that Shuguang Electric is the No.1 home appliance brand of your best choice.
Shuguang Electric is showing its grand plans. Jizhong Ozhanbilat main store has expanded its business and has a new decoration. On June 24, 2023 (Saturday), a ribbon-cutting ceremony will be held at 10:30 am on June 24, 2023 (Saturday). Big sale until July 15th, 22 consecutive days of great discounts on new products, crazy discounts!
Shuguang Electric's main store is located in Ozhanbilat Luxury Park, Jizhong. The location is moderate, and parking is convenient. The main floor is divided into 2 floors, selling a variety of home appliances, such as smartphones, tablet computers, ultra-thin TVs, refrigerators, rice cookers, hair dryers, washing machines, blenders, electric fans, air conditioners, etc. This store has a new scale of home appliances, not only adding a number of top home appliance brands, but also enhancing the new shopping experience so that you can enjoy the supreme service.
Exquisite electrical appliances only cost RM50 to RM199
The early bird gets the worm, and the early bird gets the good fortune. You can enjoy exquisite electrical appliances with a starting price of only RM50 to RM199.
There are still great deals. For example: SHARP 55-inch 4K UHD HDR Smart TV only sells for RM1599, saving RM1000; SHARP 1 horsepower air conditioner only sells for RM899, saving RM610; Haier 7kg vented dryer only sells for RM799, saving RM300; Midea 9.5kg fully automatic Washing machine is only RM799, saving RM500; Elba range hood and built-in stove are only selling for 1099, saving RM500; Midea 240L double-door refrigerator is only selling for RM899, saving RM430; Midea 587L side-by-side double-door refrigerator is only selling for RM1999, saving RM700 Wait, all are in stock and self-shipped, the stock is limited, first come first served, while stocks last.
Not only that, but also launched a limited-time happy hour special promotion to buy and buy again! Mayer Mickey's mini USB fan is only RM9.90, Cornell steam iron is only RM29.90! It's really worth the money, it's such a good deal, if you're quick, you'll get it if you're slow, so hurry up and buy it.
After shopping for home appliances, if you want to watch your favorite channels anytime, anywhere, take advantage of this new promotion and sign up for Astro's super value package! Brand new PVR, multiple basic channels and genres, enjoy Astro entertainment in the most economical way.
Those who pass the buy now pay later plan do not need a guarantor, no credit card, no payment, approved within 48 hours, and the monthly interest rate is only less than 1.25%. No matter cash transaction, installment payment, Atome buy now pay later plan, GrayPay payment save more, or credit card easy payment plan with 0% interest for 36 months, etc.! These are definitely beneficial to consumers and can reduce the burden on consumers.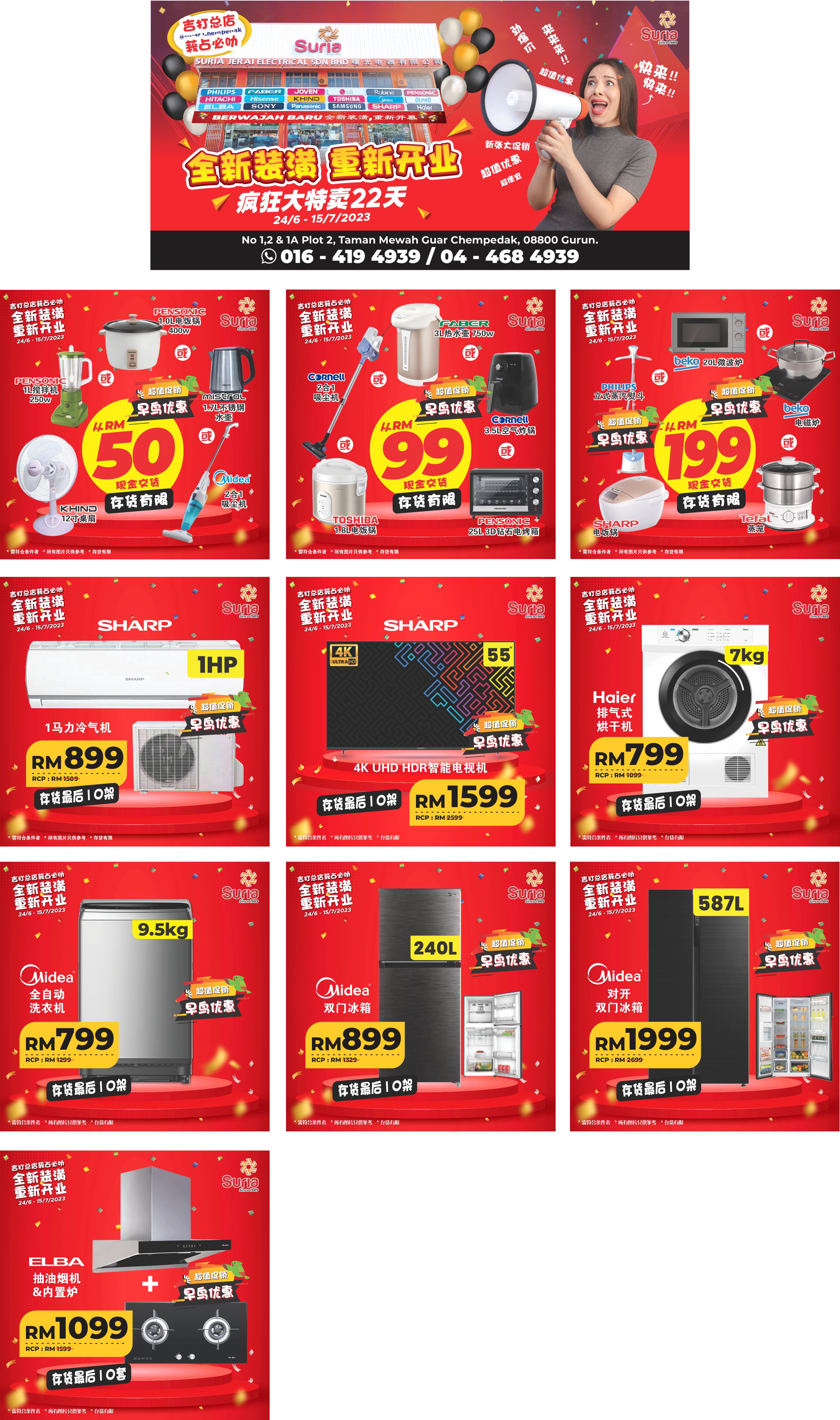 Register as a member to enjoy more benefits
If you want to get more discounts, remember to do this step first! Just download the "Suria Jerai App" mobile application, visit the site on the opening day and ask the sales staff to help you apply to become a new member of the SJ EXTRA card (the first 100), you can get an exclusive exquisite household hand towel for free, and enjoy more What an exclusive benefit! For example, consumers can get an extra one-year warranty period for home appliances, provide replacement products for electrical appliances during the maintenance period, and enjoy birthday discount coupons every year on their birthdays. Not only that, but also special products for exclusive members. Members can also buy products and store points in exchange for various gifts. Suguang Electronics also considerately provides consumers with delivery services in Beima and Sinanma counties, allowing you to save on shipping costs!
Sugon Electric is a one-stop electrical appliance store, of course other brands are indispensable, including: LG, SAMSUNG, PANASONIC, HAIER, MIDEA, SHARP, SONY, TOSHIBA, PENSONIC, HISENSE, HITACHI, PHILIPS, FABER, ELBA, JOVEN, KHIND, RUBINE etc. There are all kinds of electrical products here, so you don't have to shop around anymore!
The company's goods are the most complete and comprehensive. It can be said to be a dazzling array of everything you need. It provides you with one-stop shopping fun. However, the focus is on the items sold, which are cheap and high-quality. It is the first-choice shop for buying electrical appliances unanimously recommended by consumers from all over the world. !
Welcome to SuriaJerai Electrical Sdn Bhd's website, Facebook, SuriaJeraiElectrical, click Like and Share, to learn more about the promotion details. Gurun, Kedah, Gurun, Kedah. Tel: 04-4684 939, 016-419 4939, business hours : 10:00 am to 6:30 pm (Closed on Friday).