Big discount on GREE air conditioners for five consecutive days from 18th to 22nd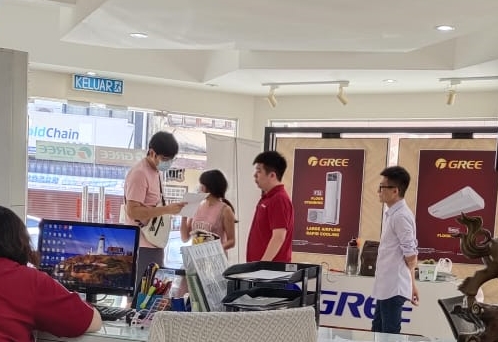 (Penang News on the 18th) The world's first air-conditioner store using Chinese Gree (GREE). In order to relieve the public from the current domestic hot climate, it sincerely recommends the purchase of air-conditioners at surprising prices, so that you can enjoy a cool home life with peace of mind!
The great discounts of the Customer Week (Customer Week), which was held for the first time in August this year, have received enthusiastic responses from all walks of life. In response to popular requests, the discounts will be offered for 5 consecutive days from the 18th to the 22nd of this month (Monday to Friday). Customers who were too late to visit came to purchase. The exhibition time was from 8:30 am to 5:30 pm.
Like & Share for a chance to win prizes
In addition, there is additional good news that during the 5-day exhibition period, as long as you visit the sales and service center showroom at Xiangde Road branch and Like & Share through the website, you can participate in the lucky draw to win a In addition to the exquisite gifts, you can also receive free "meeting gifts", which are biscuits and instant noodles produced by the company's KTS Group. Of course, if you purchase an air conditioner on site, in addition to valuable gifts, you can also win prizes of even greater value, including a brand new air conditioner!
When interviewed, David Wang Chaoqi (David), deputy manager of the North Malaysia Sales and Service Center of Gree Malaysia Sdn. It has a long history, and its energy-saving function is the preferred brand of air conditioners by the public.
He said that the Gree brand's automatic cleaning (X-FAN) function continues to dry the inside of the indoor unit after you turn it off, keeping it clean and healthy. The new generation of hydrophilic aluminum foil used will remove dust in the evaporator in cooling or dehumidification mode. There is also cold plasma (Cold Plasma) that can effectively sterilize and remove bacteria and odors, and provide more negative oxygen ions to indoor air.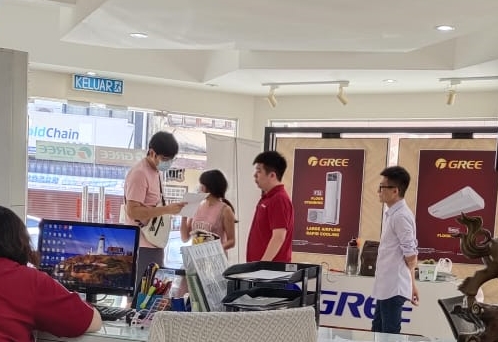 The GREE brand is affiliated to Gree Electric Appliances in Zhuhai, China. It is the only "world famous brand" product in China's air conditioning industry, with operations in more than 190 countries and regions around the world. North Malaysia branch address: 160A, Jalan Seang Tek, 10400 Penang. Tel: 04-228 0190; David: 016-270 9227.