Alor Setar Simpang Kuala reopens with new decoration and crazy sale for 9 days 7-15/10/2023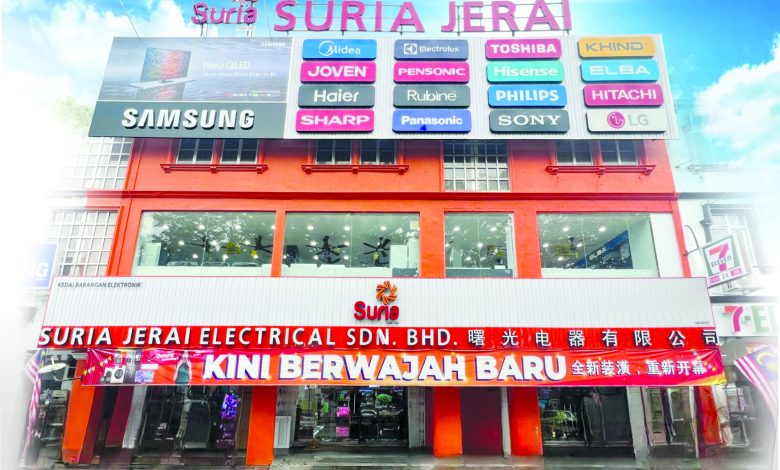 (Alor Setar, 7th) Suria Jerai Electrical Sdn Bhd, the largest electrical appliance chain store in Northern Malaysia, is making great progress. Its Simpang Kuala branch has expanded its business and has a new decoration. It will be opened in October 2023. The ribbon-cutting ceremony will be held at 10:30 a.m. on the 7th (Saturday), with a lion dance to add to the fun, a brand new grand opening, crazy discounts on new items, and great prices until October 15th! It is sure to shock the whole city and leave you surprised and satisfied.
The branch is in a moderate location with easy parking. It is painted mainly orange and white and stands out, making it visible to everyone passing by. The main floor is divided into two floors, each selling a variety of home appliances, such as ultra-thin TVs, refrigerators, washing machines, dryers, air conditioners, mixers, electric fans, water heaters, hair dryers, smartphones, tablets, etc. This store's new home appliance scale not only adds multiple top home appliance brands, but also enhances a new shopping experience so you can enjoy supreme service.
Exquisite electrical appliances only from RM50 to RM89
As a grand opening bonus, the store launched an unprecedented series of branded home appliances at special discounts for nine consecutive days, allowing consumers to enjoy value-for-money rewards. The early bird catches the worm, and the early bird catches the worm, and those who arrive early are rewarded. You can enjoy exquisite electrical appliances with prices starting from only RM50 to RM89. Such as: vacuum cleaners, blenders, rice cookers, ceiling fans, standing fans, stoves, choppers, etc. Stock is limited, first come first served, while supplies last.
There are also great deals. For example: SHARP 60-inch AQUOS 4K HD Android TV is only priced at RM1999, saving RM1800, and it also comes with a free vacuum cleaner worth RM229, which is great value for money! SAMSUNG 1 HP air conditioner is only RM799, saving RM600; Elba range hood and built-in stove are discounted by 50%, only RM1099, great value! TOSHIBA 7kg tumble dryer is only sold for RM799, saving RM800; KHIND 12kg fully automatic washing machine is only sold for RM899, saving RM400; Midea 240L double-door power-saving refrigerator is only sold for RM799, saving RM400; SAMSUNG 550L double-door refrigerator is only sold for RM2999 , save RM1000, etc., all are in stock and self-delivered, stock is limited, first come first served, while stocks last.
In addition to allowing you to buy exquisite electrical appliances in the most worthwhile way, we have also launched a buy-and-repurchase series. As long as you purchase home appliances for RM3,000 or above, you can purchase a Tefal 26cm non-stick wok for only RM49!
After purchasing home appliances, if you want to watch your favorite channels anytime and anywhere, take advantage of this new offer and quickly sign up for Astro's value-for-money package! Brand new PVR, multiple basic channels and types, enjoy Astro entertainment in the most economical way.
For those who buy now and pay later through the AEON plan, no guarantor, no credit card, no payment is required, and the monthly installment is only less than RM48, which is absolutely irresistible to you. No matter cash transaction, installment payment, Atome buy now, pay later plan, GrayPay payment to save more, or 36 months 0% interest credit card simple payment plan, etc.! These are absolutely beneficial to consumers and can reduce the burden on consumers.
In order to give back to our loyal customers, there are many benefits when registering for Sugon Electric's exclusive membership card, and you can enjoy more exclusive benefits!
Shuguang Electric is a one-stop electrical appliance store and of course other brands are indispensable, including: LG, SAMSUNG, PANASONIC, HAIER, MIDEA, SHARP, SONY, TOSHIBA, PENSONIC, HISENSE, HITACHI, PHILIPS, FABER, ELBA, JOVEN, KHIND, RUBINE , DAIKIN, TCL and so on. There are all kinds of electrical products here, so you no longer have to shop around! The company's products are the most complete and comprehensive. It can be said that there is a dazzling array of everything, providing you with one-stop shopping pleasure. However, the focus is still on what they sell. The items are cheap and high-quality, and it is the first choice store recommended by consumer groups all over the world to buy electrical appliances!
Shuguang Electric's excellent reputation spreads all over Penang Perak
Shuguang Electric Co., Ltd. was founded on April 30, 1989 in Orzhan Pilat, Jilin Province, and was renamed Shuguang Electric Co., Ltd. in September 2007. It has a history of 34 years and has excellent reputation. Currently, major branches are located in the four states of Penang, Kedah, Perlis and Perak in Northern Malaysia, representing the perfect quality of life for consumers. The company strives for success by quality and will continue to work hard to fulfill its entrepreneurial commitments and goals, strengthen the company's image, and sell high-quality electrical appliances with guaranteed quality and absolutely fair prices, as well as provide excellent sales and after-sales services to repay the support and love of its customers.
Welcome to visit SuriaJerai Electrical Co., Ltd.'s Facebook page, click like and share, or download APPS to learn more about the discounts. Pekan Simpang Electric Sdn Bhd, Alor Setar Sultan Abdul Halim, Commercial address: No. 11, 11A, 1st 1B & 12A, 12B, 13, 13A, 13B, Pekan Simpang Kuala, Off Lebuhraya Sultan Abdul Halim, 05400 Alor Setar , Kedah Darul Aman. Tel: 04-7711952 / 016-4174939, business hours: 10:30 am to 9:00 pm (open 7 days).